Over at Crochetville, I have participated in a few swaps this Fall. Basically, a swap is where you send goodies and handmade stuff to your partner and you get goodies and handmade stuff from your partner. Goodies? Handmade stuff?? Packages in the mail??? What could possibly be more fun?!?!?
I was in a tea cosy swap and also a secret pal swap. My tea cosy partner made a great wool cosy for my teapot and then felted it. Let me tell you, that bad boy keeps my teapot hot for over an hour!! She also enclosed a bunch of goodies in my package, but when it arrived, it was mangled and torn and there was nothing in the envelope but the cosy! Thank goodness the cosy made it! Well, a few days ago, even though it was not required, that dear lady sent me a new package and look at what I got: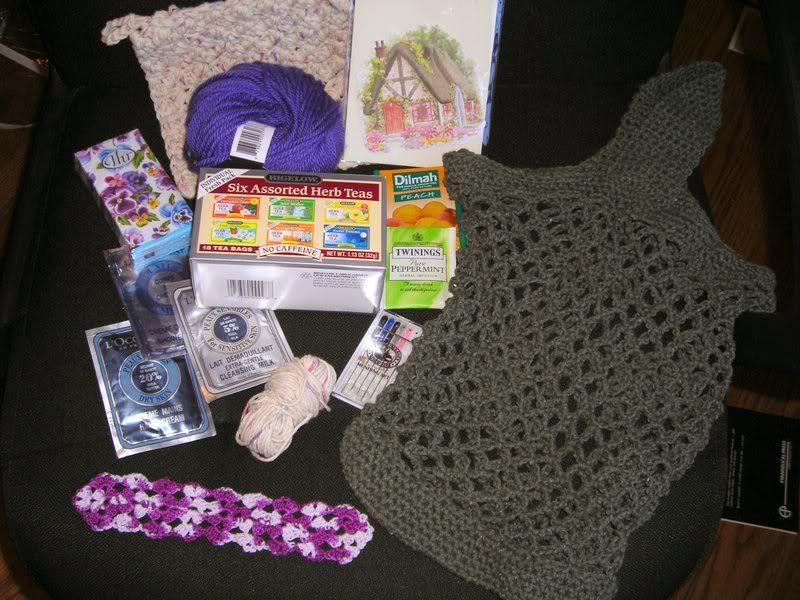 She sent me...
~a crocheted pot holder
~a crocheted mesh bag (YES! A bag she crocheted for me!! It is awesome!)
~a crocheted book mark
~a beautiful note card
~oodles and oodles of herb tea
~some imported chocolate from Holland (which is totally yummy!!!)
~a votive candle that made the whole box smell like flowers!
~some pretty floral tissues
~a ball of gorgeous yarn (with wool and cashmere in it, no less!)
~some L'occitane samples (which I have never had a chance to try before)
~a mending set (compact needles and thread for any emergency)
There were even more assorted tea bags that made their way to my kitchen before I took the photo. Also, the candle is not in the picture because my daughter swiped it. Oh, and the chocolate?? Let me just say, if anyone wants to make me a happy person, just send me some of this:

Here is another shot of the mesh bag: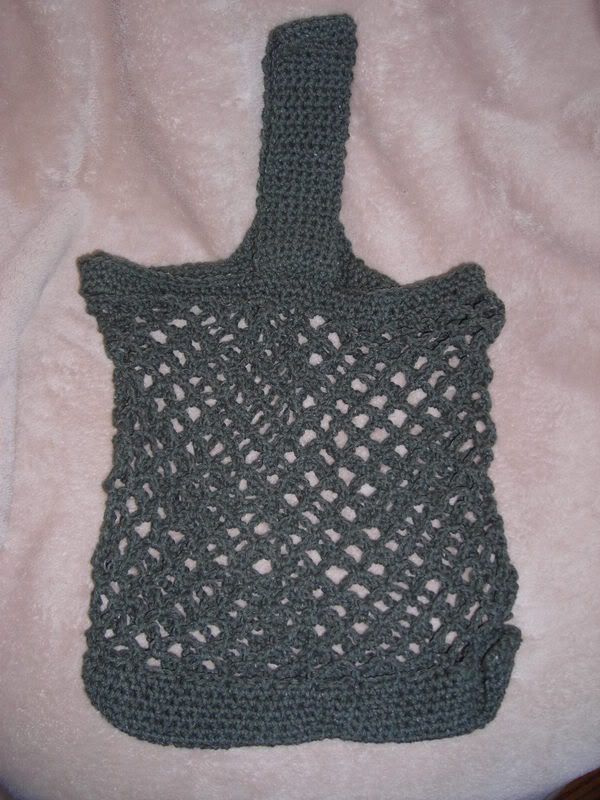 Thank you, Joanne!!! I really appreciate your thoughtfulness and going WAY beyond the call of duty!!

AND JUST LOOK AT WHAT MR. POSTMAN BROUGHT ME TODAY!!!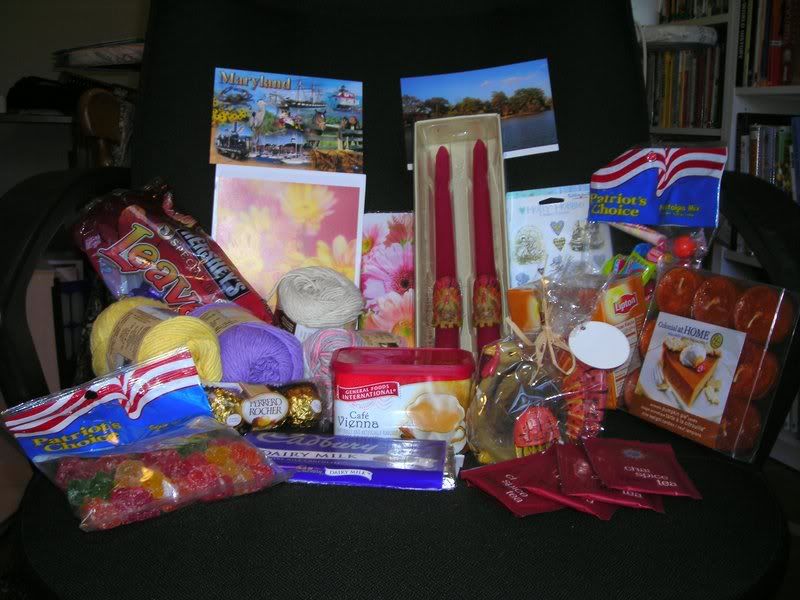 My Autumn Secret Pal, Anna sent me a box bursting with goodies!! It included:
~4 balls of Sugar'n Cream cotton yarn in 4 colors that I do not yet have!
~a bag of Hersheys Special Dark chocolates in the shapes of leaves
~a bag of assorted candies (Smarties, Sweetarts, Tootsie Rolls, Atomic Fire Balls, jawbreakers, bubblegum and lollipops)
~Ferrero Rocher Hazelnut Chocolates
~a BIG bar of Cadbury milk chocolate
~a bag of Sour Bears
~Vanilla Caramel Truffle tea
~a tin of Cafe' Vienna
~some Stash tea bags in the Chai Spice flavor (her personal favorite and I can't wait to try it!)
~some pumpkin pie candles (spicy scents are my favorite!!)
~some Holly Hobbie stickers
~a pocket calendar
~a pad of stationary (or is it spelled "stationery?")
~some post cards
~a set of turkey taper candles (I can't wait to use these on Thanksgiving!)
~a Tom Turkey candle (adorable!!! Thanksgiving is my FAVORITE holiday!!)
~and the BEST for last...a tote bag that she designed and crocheted just for ME!!!
Here are some close-up pictures of the turkey candles: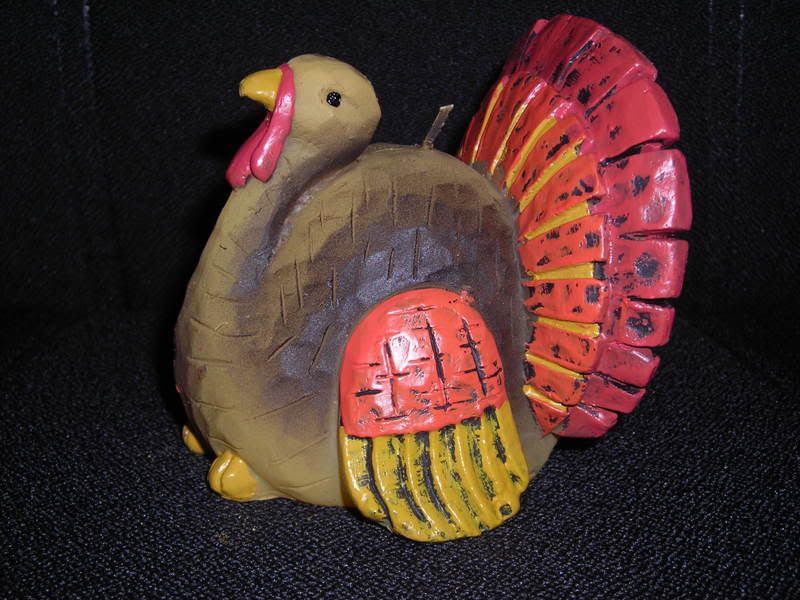 I
told
you they were precious!!
And here are some photos of the tote bag she made for me. I can not imagine all the time it must have taken her to not only design the pattern, but then all the hours of work!!! She not only crocheted the bag, but then, she crocheted the lining!!! The pictures just do not do it justice!! The blue lining is more of a grayish denim blue and not as bright as it appears on my computer.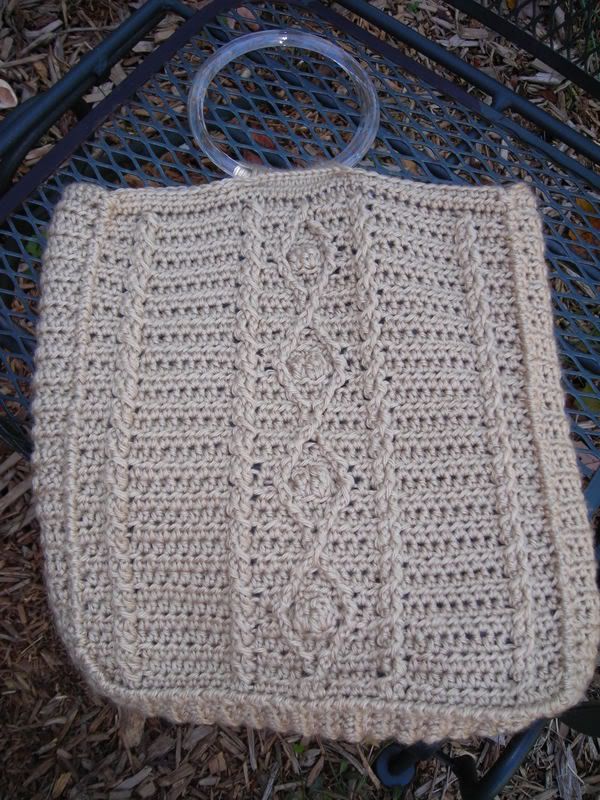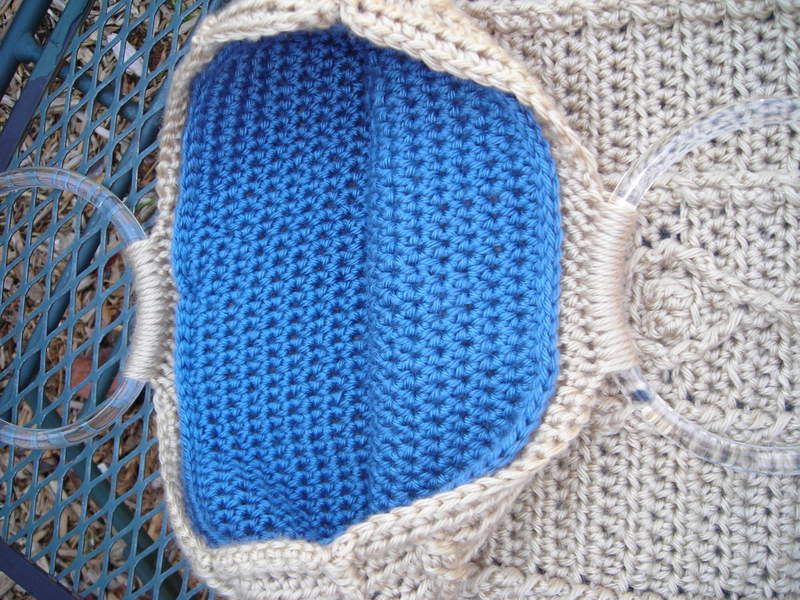 I would also like to point out that during this Autumn Swap, Anna moved across several states, continued to run her online business (
http://www.lullabiesandlace.com/
) bought a new home and painted it all by herself while keeping up with her toddler, and still found time to spoil me rotten! Thank you, sooooo much, Anna!! I am awed!!