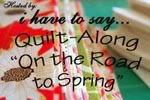 I love to visit the blog
"i have to say..."
and I am thrilled to tell you that Randi is hosting a quilt-along. Whether you are a novice or an experienced quilter, it's not too late to join! It will be 6 weeks of easy, step-by-step instructions in small, bite-sized
do-able
chunks. You can read more about it
here
.
I am thinking of using these fabrics to go into my living room, which has deep, rich, pumpkin walls, an oriental rug with cranberry red, golds and blues, and a sofa with greens, reds, golds and a touch of the pumpkin color.